..: NORTON :.. Soon In The Studio!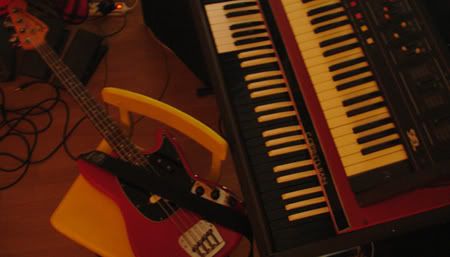 Estamos fechados na nossa sala de ensaios a preparar o novo disco desde Janeiro deste ano… Já lá vão oito meses sem concertos e com muitas horas de composição, preparação, experimentação e pré-produção. Depois de umas pequenas férias em Agosto, voltamos agora para a fase final da pré-produção do disco, que vamos começar a gravar em Outubro.
Podemos adiantar-vos que estamos bastante contentes com as novas canções e que estão bem diferentes do disco anterior, podem esperar uns novos Norton nesta nova etapa! Até ao momento, o sucessor de

Pictures From Our Thoughts

ainda não tem nome, e só um dos temas tem o título definido, alguns de vocês devem lembrar-se dele dos últimos concertos,

Frames Of Yourself

!
A partir de 4 de Outubro, podem ver algumas fotos e ler alguns textos no nosso diário de estúdio, no nosso site, que será actualizado por todos os elementos da banda com a maior frequência possível durante as gravações do novo disco!...
Tenham um óptimo final de Verão! Até já!
---
We are closed in our rehearsal room preparing our new record since January 2006… Eight months without concerts and with a lot of time of composition, experimentation and pre-production. After some holidays in August we comeback now for the final touch in the new songs of the record, which we will start recording in October.
We are really happy with the new songs, they are different from the last album… you can expect a new sound in this time! Until now we dont have a name for the record and only one of the songs have a final name, some of you must remember it from the last concerts,

Frames of Yourself

.
From the 4th of October on you can see some photos and read some texts in our studio diary, in our website, which will be actualized everytime by all Norton members during the record sessions.
Enjoy the last days of summer! See You


kisses & hugs
>>>norton